DINAMIKA FUNGSI KEPOLISIAN DAN HUBUNGANNYA DENGAN PROGRAM PERPOLISIAN MASYARAKAT
Keywords:
dinamika, fungsi kepolisian, program perpolisian masyarakat, dinamics, police function, society police program
Abstract
Sejak terpisahnya institusi Polri dengan TNI, banyak pembaharuan telah dilakukan, antara lain membuat konsep pendekatan baru terhadap masyarakat dalam melaksanakan tugas penga-yoman dan pembinaan terhadap masyarakat. Dengan program POLMAS diharapkan akan tercipta sistem situasi keamanan dan ketertiban yang kondusif, karena masyarakat akan menyadari bahwa ketertiban dan keamanan itu tidak mungkin tercipta tanpa kerjasama yang sinergis antara Polri dengan masyarakat. Dalam program ini diharapkan akan tercipta keikutsertaan masyarakat dalam menanggulangi setiap ancaman, gangguan, hambatan, baik berupa pelanggaran maupun kejahatan yang akan mengganggu ketertiban dan keamanan masyarakat.
Since being apart between institution of Indonesian Police (POLRI) with Indonesian National Armed Forces (TNI), there are so many renewals have been done, such as: making new approach concept prominently for sheltering and establishing society. By having this POLMAS program, it is expected to create a conducive, peaceful and orderly situation system  because society will realize that safety and orderliness situation will be impossible without any synergy cooperation between POLRI and society. It is also expected that this program will create the participation of society to cope every threat, attack, and obstacle, in the form of violation or criminal which will disturb a peaceful and orderly system of society.
References
Buku:
Bachtiar, Harsya W., 1994, llmu Kepolisian, Jakarta: Penerbit Grasindo.
Chumaisa, Sri, 2006, Perpolisian Masyarakat, Surabaya: Semeru Polda Jatim.
Kapolda, Kebijakan dan Strategi Penerapan Model Perpolisian Masyarakat dalam Penyelenggaraan Tugas Polri, Surat Keputusan, Oktober 2005.
Kapolri, Panduan Pelaksanaan Fungsi Intelkam, Reskrim, Samapta, Lalu Lintas, PolAir, Brimob dengan Pendekatan Perpolisian Masyarakat, Surat Keputusan, Juli 2006.
Kapolri, Panduan Pembentukan dan Operasiona-lisasi Perpolisian Masyarakat, Surat Keputusan, Juli 2006.
Kapolri, Pedoman Pembinaan Personel Pengemban Fungsi Perpolisian Masyarakat, Surat Keputusan, Juli 2006.
Mabes Polri, 1999, Reformasi Menuju Polri yang Profesional, Jakarta: Mabes Polri.
Meliala, Adrianus, 2004, Community Policing, Surabaya: Semeru Polda Jatim.
Pokja Polri-IOM, Perpolisian Masyarakat, Mabes Polri-Jakarta, 2006.
Sparingga, Daniel, 2006, Merubah Diri dari Militeristik menjadi Civil Police, Surabaya: Semeru Polda Jatim.
Peraturan Perundangundangan:
Pembukaan UndangUndang Dasar RI 1945.
UndangUndang Republik Indonesia No. 2 Tahun 2002 tentang Kepolisian Negara Republik Indonesia.
Media Massa:
Majalah Semeru No. 338 Edisi Nopember 2004.
Majalah Semeru No. 352 Edisi Januari 2006.
Majalah Semeru No. 358 Edisi Juli 2006.
Majalah Semeru No. 359 Edisi Agustus 2006.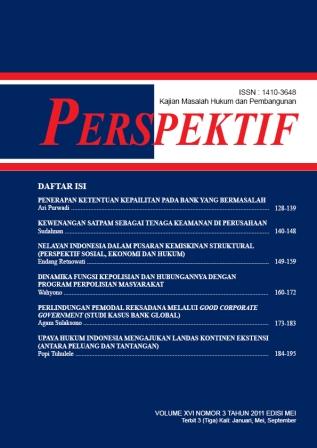 Downloads
License
Authors who publish with this journal agree to the following terms:
Authors retain copyright and grant the journal right of first publication with the work simultaneously licensed under a Attribution-ShareAlike 4.0 International (CC BY-SA 4.0) License that allows others to share the work with an acknowledgement of the work's authorship and initial publication in this journal.
Authors are able to enter into separate, additional contractual arrangements for the non-exclusive distribution of the journal's published version of the work (e.g., post it to an institutional repository or publish it in a book), with an acknowledgement of its initial publication in this journal.
Authors are permitted and encouraged to post their work online (e.g., in institutional repositories or on their website) prior to and during the submission process, as it can lead to productive exchanges, as well as earlier and greater citation of published work (See The Effect of Open Access).
The Authors submitting a manuscript do so on the understanding that if accepted for publication, copyright of the article shall be assigned to jurnal PERSPEKTIF and Research Institutions and Community Service, Wijaya Kusuma Surabaya University as publisher of the journal.