PERLINDUNGAN PEMODAL REKSADANA MELALUI GOOD CORPORATE GOVERNMENT (STUDI KASUS BANK GLOBAL)
Keywords:
keterbukaan, dapat dipercaya, jujur, mandiri dan bertanggung jawab, transparancy, accountability, fairness, independency, responsibility
Abstract
Pasar modal merupakan tempat untuk bertemu antara pembeli dan penjual dalam penjaminan perdagangan seperti saham dan obligasi sebagai sumber-sumber nilai ekonomi yang saling menguntungkan. Oleh karenanya nilai dari dana yang dijaminkan bersama dari investasi manajer adalah tinggi dan kemudian efek yang baik dari issu tersebut untuk dasar penunjang bisnis yang lebih baik yaitu melalui penerapan prinsip-prinsip pelaksanaan perusahaan yang baik.
The capital market is a place of meeting sellers and buyers to trade securities such as stocks and bonds as a source of economic value of mutual funds. So that the value of mutual fund securities of the Investment Manager is high then the effect should be good in this case the issuer is required on an ongoing basis to spur business with the better through the application of the principles of good corporate governance.
References
Buku:
Achsien, Iggie H., 2003, Investasi Syariah di Pasar Modal, Jakarta: Gramedia Pustaka Utama.
Balfas, Hamud M., 2006, Hukum Pasar Modal Indonesia, Jakarta: Tatanusa.
Boediono, 2001, Indonesia Menghadapi Ekonomi Global, Yogyakarta: BPFE-UGM.
Cunningham, Lawrence A., 2004, What is Value Investing, New York: MC Graw-Hill.
Nugraha, Ubaidillah, 2004, Secangkir Teh Hangat Pasar Modal, Jakarta: Gramedia Pustaka Utama.
Rahardjo, Sapto, 2003, Panduan Investasi Obligasi, Jakarta: Gramedia Pustaka Utama.
Retnadi, Djoko, 2005, Obligasi Rekapitulasi Perbankan, Jakarta: Masyarakat Profesional Madani.
Surat Kabar:
Kompas, Melek Finansial Sejak Muda, edisi 8 Desember 2007.
Kompas, Saatnya Beralih ke Reksadana Saham, 29 Juni 2005.
Kompas, Cakrawala Investasi Pemodal Mesti Diperpanjang, edisi 1 Juni 2005.
Kompas, Terlibat Kasus Bank Global Disidik BAPEPAM, edisi 18 Desember 2004.
Jawa Pos, Pembekuan Bank Global, edisi 17 Desember 2004.
Jawa Pos, Polri Kontak Singapura dan Malaysia, edisi 16 Desember 2004.
Jawa Pos, BI Bekukan Bank Global, edisi 14 Desember 2004.
Jawa Pos, BES Atur Wali Amanat, edisi 15 Mei 2003.
http://www.sinarharapan.co.id/ekonomi/keuangan/2004/1213/keu2.html internet diakses tanggal 12 Mei 2005.
Wawancara dengan Siti Sundari, Direktur Penyidikan Kantor Bank Indonesia, telah dilakukan pada tanggal 27 Agustus 2007.
Jurnal Hukum dan Pasar Modal, Reksadana Fiktif dan Obligasi Subordinasi Bank Global, edisi 2 Juli 2005, halaman 86.
Jurnal Hukum dan Pasar Modal, Transaksi Benturan Kepentingan Sebuah Perbandingan, edisi pertama, HKPM, Januari, 2005.
Majalah Swa, Berburu Reksadana Saham ke Negeri Cina, edisi 15/XXI, 21 Juli-3 Agustus 2005.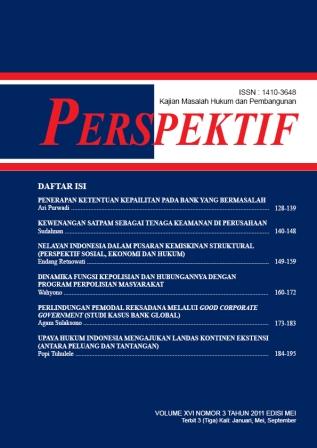 Downloads
License
Authors who publish with this journal agree to the following terms:
Authors retain copyright and grant the journal right of first publication with the work simultaneously licensed under a Attribution-ShareAlike 4.0 International (CC BY-SA 4.0) License that allows others to share the work with an acknowledgement of the work's authorship and initial publication in this journal.
Authors are able to enter into separate, additional contractual arrangements for the non-exclusive distribution of the journal's published version of the work (e.g., post it to an institutional repository or publish it in a book), with an acknowledgement of its initial publication in this journal.
Authors are permitted and encouraged to post their work online (e.g., in institutional repositories or on their website) prior to and during the submission process, as it can lead to productive exchanges, as well as earlier and greater citation of published work (See The Effect of Open Access).
The Authors submitting a manuscript do so on the understanding that if accepted for publication, copyright of the article shall be assigned to jurnal PERSPEKTIF and Research Institutions and Community Service, Wijaya Kusuma Surabaya University as publisher of the journal.