UPAYA HUKUM INDONESIA MENGAJUKAN LANDAS KONTINEN EKSTENSI (antara Peluang dan Tantangan)
Keywords:
UNCLOS 1982, Indonesia, penetapan landas kontinen ekstensi, stipulation of basis continent extention
Abstract
UNCLOS 1982 menyatakan bahwa suatu negara pantai berhak mengklaim landas kontinen lebih dari 200 mil laut dan tidak boleh lebih dari 350 mil laut (landas kontinen ekstensi).Untuk itu negara pantai harus melakukan delineasi batas terluar LKE ini dan mengajukannya kepada Komisi Batas Landas Kontinen (Commission on the Limits of Continental Shelf, CLCS) melalui Sekretaris Jendral Perserikatan Bangsa-Bangsa (PBB). Indonesia merupakan negara pantai yang memiliki potensi untuk mengajukan Landas Kontinen Ekstensi (LKE). Kajian pendahuluan yang dilakukan beberapa pihak menunjukkan adanya kemungkinan Indonesia dapat mengajukan LKE untuk beberapa wilayah maritim. Dalam hal ini yang di analisis, status terkini dan tantangan yang dihadapi oleh Indonesia dalam proses delineasi batas terluar landas kontinen ekstensi dan pengajuan kepada CLCS.
UNCLOS 1982 stated that a continental has the right to claim basis continent more than 200 miles from sea and not more than 350 miles from sea (LKE). For that case, continent should make the delineation  the outborder  of this LKE  and propose to the (Commission on the Limits of Continental Shelf, CLCS) through The Secretarial General of United Nations).Indonesiais continental which has potential to propose LKE. The  primary study done by some  parties showed that there is possibility forIndonesiaproposes LKE to have some maritime areas. In that case, it is analized the current status and the obstacle ofIndonesiain facing the process of delineation the out border of LKE and proposal to CLCS.
References
Buku:
Arsana, I Made Andi, 2007, Batas Maritim Antarne-gara, Sebuah Tinjauan Teknis dan Yuridis, Yogyakarta: Gadjah Mada Press.
Arsana, I Made Andi, Deliniasi Batas Landas Kontinen Ekstensi Indonesia: Status dan Permasalahannya, diakses dari http;//geologi.ugm.ac.id, 27 Maret 2008.
Churchil, R.R., and Lowe, A.V., 1983, The Law of the Sea, Manchester University Press.
D. J. Starke, 1979, Pengantar Hukum Internasional, Jakarta: Sinar Grafika.
D. P. O'Connell, 1984, The International Law of the Sea, Vol.I, Edited by Shearer, Clarendom Press.
Drujanah, Eka dan Tangguh Dewantara, 2002, Penetapan Batas Landas Kontinen Indonesia, Jurnal Surveying dan Geodesi, Vol XII. No. 3.
Jalal, Hasjim, 1979, Perjuangan Indonesia di Bidang Hukum Laut, Bandung: Binacipta.
Jawhari, Tantowi & Iskandar Pranoto, Hukum Internasional Kontemporer, Refika Aditama.
Kalean, M.S., 2002, Pendidikan Kewarganegaraan untuk Perguruan Tinggi, Yogyakarta: Paradikma.
Kusumaatmadja, Moctar, 1978, Bunga Rampai Hukum Laut, Bandung: Binacipta.
______, 1983, Hukum Laut Internasional, Bandung: Binacipta.
______, 2002, Konsep-Kosep Hukum dalam Pembangunan, Kumpulan Karya Tulis, Bandung: Alumni.
Mauna, Boer, 2003, Hukum Internasional: Pengertian Peran dan Fungsi dalam Era Dinamika Global, Bandung:Alumni
Parthiana, I Wayan, 2003, Pengantar Hukum Internasional, Bandung: Mandar Maju.
Subagyo, P. Joko, 1985, Perkembangan Hukum Laut Internasional, Jakarta: Ghalia Indonesia.
Tsani, Moh. Burhan, 1990, Hukum dan Hubungan Internasional, Yogyakarta: Liberty.
Peraturan Perundang-undangan:
United Nations Convention Law of The Sea, 1958.
United Nations Convention Law of The Sea, 1982.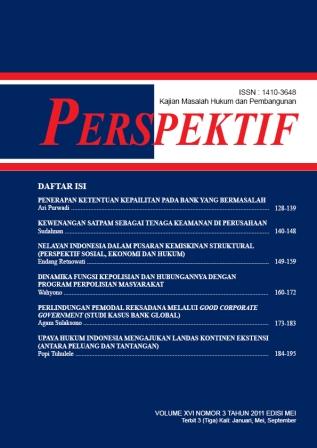 Downloads
License
Authors who publish with this journal agree to the following terms:
Authors retain copyright and grant the journal right of first publication with the work simultaneously licensed under a Attribution-ShareAlike 4.0 International (CC BY-SA 4.0) License that allows others to share the work with an acknowledgement of the work's authorship and initial publication in this journal.
Authors are able to enter into separate, additional contractual arrangements for the non-exclusive distribution of the journal's published version of the work (e.g., post it to an institutional repository or publish it in a book), with an acknowledgement of its initial publication in this journal.
Authors are permitted and encouraged to post their work online (e.g., in institutional repositories or on their website) prior to and during the submission process, as it can lead to productive exchanges, as well as earlier and greater citation of published work (See The Effect of Open Access).
The Authors submitting a manuscript do so on the understanding that if accepted for publication, copyright of the article shall be assigned to jurnal PERSPEKTIF and Research Institutions and Community Service, Wijaya Kusuma Surabaya University as publisher of the journal.