TINDAK PIDANA PENIPUAN OLEH NOTARIS (RATIO DECIDENDI PUTUSAN PERKARA PIDANA NOMOR: 2200/Pid.B/2020/PN.Sby)
Keywords:
tindak pidana, penipuan, notaris, crime, fraud, notary public
Abstract
Profesi notaris adalah profesi yang mulia dan terhormat sebagai pejabat publik. Notaris melaksanakan profesinya untuk memberikan jasa hukum untuk rakyat yang berguna untuk memberikan perlindungan dan jaminan hukum demi kepastian hukum. Sebagaimana halnya dalam kasus Putusan atas perkara pidana Nomor: 2200/Pid.B/2020/PN.Sby atas nama Devi Chrisnawati selaku seorang Notaris di Surabaya yang berposisi menjadi terdakwa dalam tindak pidana penipuan dan/atau penggelapan senilai ratusan milyar. Hubungan hukum perdata yang semula berada di ranah wanprestasi kemudian ternyata berlanjut ke tuntutan pidana penipuan dan penggelapan. Penelitian ini dilaksanakan menggunakan metode statute approach, conceptual approach dan case approach. Penelitian bertujuan untuk mengkaji mengenai: (1) letak batasan rumusan wanprestasi dan penipuan berdasarkan pada Akta Perjanjian yang dibuat oleh Notaris sebagai pejabat berwenang; (2) Konsekuensi hukum Akta Otentik yang dilandasi oleh Dokumen serta keterangan palsu oleh para penghadap/pihak; (3) Analisa pertimbangan hukum hakim (ratio decidendi) dalam perkara pidana tersebut. Penelitian ini menyarankan perlunya kecermatan Hakim dalam memutus sebuah perkara.
The notary profession is a noble and honorable profession as a public official. Notaries carry out their profession to provide legal services for the people that are useful for providing legal protection and guarantees for legal certainty. As is the case in the case of Decision on a criminal case Number: 2200/Pid.B/2020/PN.Sby on behalf of Devi Chrisnawati as a Notary in Surabaya who is in the position of being a defendant in a criminal act of fraud and/or embezzlement worth hundreds of billions. The civil law relationship which was originally in the realm of default later turned out to continue to be criminal charges of fraud and embezzlement. This research was carried out using the statute approach, conceptual approach and case approach. The research aims to examine: (1) the location of the limits for the formulation of default and fraud based on the Deed of Agreement made by a Notary as an authorized official; (2) The legal consequences of the Authentic Deed based on Documents and false statements by the appearers/parties; (3) Analysis of the judge's legal considerations (ratio decidendi) in the criminal case. This study suggests the need for careful judges in deciding a case.
References
Peraturan Perundangan-undangan:
Kitab Undang-Undang Hukum Pidana.
Burgerlijk Wetboek.
Undang-Undang Nomor 2 Tahun 2014 tentang Perubahan Atas Undang-Undang Nomor 30 Tahun 2004 tentang Jabatan Notaris.
Buku:
Agus Yudha Hernoko. (2021). Hukum Perjanjian Asas Proposionalitas Dalam Kontrak Komersil. Jakarta: Kencana.
Andi Hamzah. (1993). Sistem Pidana dan Pemidanaan Indonesia. Cet. II. Bandung: Pradnya Paramita.
Gunawan Wijaya. (2001). Seri Hukum Bisnis Alternatif Penyelesaian Sengketa. Jakarta: PT. Raja Grafindo Persada.
Peter Mahmud Marzuki. (2019). Penelitian Hukum. Cetakan ke-14. Jakarta: Kencana Prenada Meida.
R. Setiawan. (1999). Pokok-Pokok Hukum Perikatan. Cet. II. Bandung: Bina Cipta.
Satjipto Rahardjo. (2000). Ilmu Hukum. Bandung: PT. Citra Aditya Bakti.
Jurnal:
Eka Dadan Ramadhan dan Eni Dasuki Suhardini. "Pertanggungjawaban Pidana Notaris Dalam Pembuatan Akta Yang Didasarkan Pada Keterangan Palsu Dihubungkan Dengan Kitab UndangUndang Hukum Pidana dan Undang-Undang Nomor 2 Tahun 2014 tentang Perubahan Atas Undang-Undang Nomor 30 Tahun 2004 tentang Jabatan" Notaris". Wacana Paramarta: Jurnal Ilmu Hukum. Vol. 18 No. 1 Tahun 2019, h. 29-31.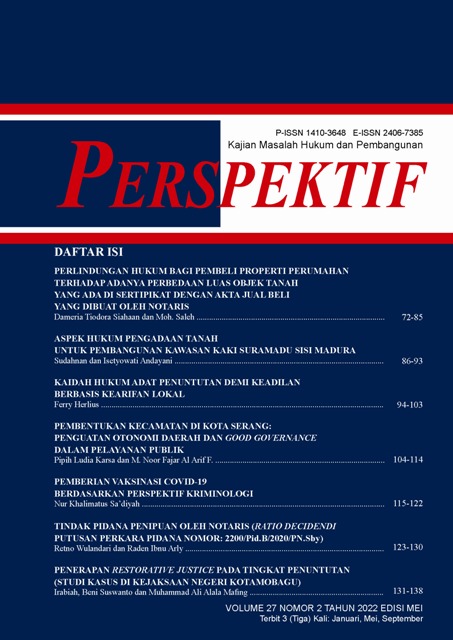 Downloads
License
Authors who publish with this journal agree to the following terms:
Authors retain copyright and grant the journal right of first publication with the work simultaneously licensed under a Attribution-ShareAlike 4.0 International (CC BY-SA 4.0) License that allows others to share the work with an acknowledgement of the work's authorship and initial publication in this journal.
Authors are able to enter into separate, additional contractual arrangements for the non-exclusive distribution of the journal's published version of the work (e.g., post it to an institutional repository or publish it in a book), with an acknowledgement of its initial publication in this journal.
Authors are permitted and encouraged to post their work online (e.g., in institutional repositories or on their website) prior to and during the submission process, as it can lead to productive exchanges, as well as earlier and greater citation of published work (See The Effect of Open Access).
The Authors submitting a manuscript do so on the understanding that if accepted for publication, copyright of the article shall be assigned to jurnal PERSPEKTIF and Research Institutions and Community Service, Wijaya Kusuma Surabaya University as publisher of the journal.