PERTANGGUNGAN JAWAB PIDANA PEJABAT ATAS TINDAKAN MAL-ADMINISTRASI DALAM PENERBITAN IZIN DI BIDANG LINGKUNGAN
Keywords:
tindakan mal-administrasi, izin, dan pertanggungan jawab pidana, the act of mal administration, permit and the responsibility of criminal case
Abstract
Kuatnya arus demokratisasi sangat berpengaruh terhadap tuntutan good governance dalam tata kelola pemerintahan. Salah satu segi positif dari tuntutan tersebut adalah dengan telah diadopsinya prinsip akuntabilitas dalam Undang-Undang Perlindungan dan Pengelolaan Lingkungan Hidup bagi pejabat atas tindakan mal-administratif dalam penerbitan izin di bidang lingkungan. Atas dasar prinsip ini warga masyarakat yang menjadi korban pencemaran dan/atau perusakan lingkungan dapat mempersoalkan legalitas perizinan dan sekaligus meminta pertanggungjawaban hukum (pidana) kepada pejabat atas kerugian yang dideritanya.
The democratic strengthen is very influencing to the demand of good governance in managing the government. One of the positive demand is it has been adopted the principle of accountability of the constitution of protection and management of environment for official functionary on the act of mal administration in establishing permit of environment field, Based on the principle community who become sacrifice of pollution of environment can appeal the legal permit and the responsibility of criminal case towards the official functionary of disadvantages they have got.
References
Djatmiati, Tatiek Sri, 2007, Perizinan sebagai Instrumen Yuridis dalam Pelayanan Publik, Pidato Pengukuhan Guru Besar dalam Bidang Hukum Administrasi, Fakultas Hukum Universitas Airlangga, Surabaya.
Hadjon, Philipus M., et.al, 2011, Hukum Administrasi dan Tindak Pidana Korupsi, Yogyakarta: Gadjah Mada University Press.
Hamzah, Andi, 1994, Asas-Asas Hukum Pidana, Bandung: Rineka Cipta.
Huda, Chairul, 2008, Dari Tiada Pidana Tanpa Kesalahan Menuju Kepada Tiada Pertanggung-jawaban Pidana Tanpa Kesalahan, Jakarta: Kencana Prenada Group.
Muladi, 1992, Teori-Teori dan Kebijakan Pidana, Bandung: Alumni.
______, 2004, Lembaga Pidana Bersyarat, Bandung: Alumni.
Muladi, dan Barda Nawawi Arief, 2010, Bunga Rampai Hukum Pidana, Bandung: Alumni.
Prodjodikoro, Wirjono, 1989, Asas-Asas Hukum Pidana di Indonesia, Bandung: Eresco.
Rangkuti, Siti Sundari, 2000, Hukum Lingkungan dan Kebijaksanaan Lingkungan Nasional, Surabaya: Airlangga University Press.
Schaffimeister, et al., edit. J.E. Sahetapy, 2011, Hukum Pidana, Bandung: Citra Adtya Bakti.
Sudarto, 1990, Hukum Pidana I Cetakan ke II, Yayasan Sudarto, Semarang: Fakultas Hukum Universitas Diponegoro.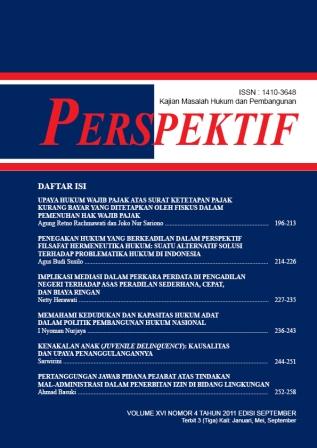 Downloads
License
Authors who publish with this journal agree to the following terms:
Authors retain copyright and grant the journal right of first publication with the work simultaneously licensed under a Attribution-ShareAlike 4.0 International (CC BY-SA 4.0) License that allows others to share the work with an acknowledgement of the work's authorship and initial publication in this journal.
Authors are able to enter into separate, additional contractual arrangements for the non-exclusive distribution of the journal's published version of the work (e.g., post it to an institutional repository or publish it in a book), with an acknowledgement of its initial publication in this journal.
Authors are permitted and encouraged to post their work online (e.g., in institutional repositories or on their website) prior to and during the submission process, as it can lead to productive exchanges, as well as earlier and greater citation of published work (See The Effect of Open Access).
The Authors submitting a manuscript do so on the understanding that if accepted for publication, copyright of the article shall be assigned to jurnal PERSPEKTIF and Research Institutions and Community Service, Wijaya Kusuma Surabaya University as publisher of the journal.