KEWARGANEGARAAN GANDA ANAK DALAM PERKAWINAN CAMPURAN DAN IMPLIKASINYA DALAM HUKUM PERDATA INTERNASIONAL
Keywords:
perkawinan campuran, kewarganegaraan ganda, anak, mixed marriage, dual citizenship, children
Abstract
Dengan diundangkannya Undang-Undang No. 12 Tahun 2006 tentang Kewarganegaraan Republik Indonesia yang memberlakukan dua kewarganegaraan bagi anak-anak hasil perkawinan campuran. Berdampak dalam Hukum Perdata Internasional dimana mereka tunduk pada dua yurisdiksi dari dua Negara yang berbeda. Permasalahan yang timbul dalam hukum perdata internasional yakni hukum dari negara mana yang berlaku terhadap status personal mereka. Solusi bagi anak yang berkewarganegaraan ganda yaitu bila ia mempunyai habitual residence di Indonesia yang jatuh bersamaan dengan salah satu kewarganegaraannya yaitu Indonesia, maka hukum Indonesia berlaku bagi status personalnya. Bagi yang mempunyai habitual residence di luar negeri maka dia diperlakukan sebagai orang asing. Hak waris atas rumah dan tanah dapat diturunkan misalnya dari hak milik menjadi hak pakai.
The promulgation of Law No 12 Year 2006 about Republic Indonesia of Citizenship executing dual citizenship to children of mixed marriage gives impact to International Civil Law in which they have to obey to the law of two different countries. The raising problem in the International Civil Law is which law can be used to give their personal status. The solution used by children who have dual citizenship is since they have habitual residence inIndonesiaautomatically they are the citizenship ofIndonesiaand the law ofIndonesiaused to give their personal status. On the other hand, those who have habitual residence in overseas country, they are considered as foreigners. Inheritances rights of land and house are the proprietary can be changed become use rights.
References
Buku:
Basuki, Zulfa Djoko, 2005, Dampak Perkawinan Campuran terhadap Pemeliharaan Anak Ditinjau dari Segi Hukum Perdata Internasional, Jakarta: Yarsif Watampone.
Gautama, Sudargo, 1964, Hukum Perdata Internasional Indonesia, Jilid 2 Bag. 3, Jakarta: Kinta.
_________, 1979, Hukum Perdata Internasional Indonesia, Jilid 2 Bag. 1, Bandung: Eresco.
_________, 1981, Hukum Perdata Internasional Indonesia, Jilid 3 Bag. 1, Bandung: Alumni.
Harsono, Budi, 1975, Undang-Undang Pokok Agraria, Sejarah Penyusunan, Isi dan Pelaksanannya, Jakarta: Djambatan.
Manan, Bagir, 2009, Hukum Kewarganegaraan Indo-nesia dalam UU No. 12 Tahun 2006, Cetakan Pertama, Jakarta: FH UII Press.
Rooij, Rene Van dan Polak V. Maurice, 1987, Private International Law In Netherlands, New York: Kluwer Law and Taxation Publishers.
Sudarsono, 1991, Hukum Perkawinan Nasional, Jakarta: Rineka Cipta.
T.M.C. Asser Instituut, 1991, Study Materiaal Internationaal Privaatrecht, Deel I, Algemeen Gedeelte Personen-en Familierecht Erfrecht, Maklu Uitgevers Antwerpen-Apeldoorn.
Peraturan Perundang-Undangan:
Undang-Undang No. 1 Tahun 1974 tentang Perkawinan.
Undang-Undang No. 5 Tahun 1960 tentang Pokok-Pokok Peraturan Dasar Agraria.
Undang-Undang No. 12 Tahun 2006 tentang Kewarga-negaraan Republik Indonesia.
Peraturan Pemerintah No. 9 Tahun 1975 tentang Pelaksanaan Undang-Undang No. 1 Tahun 1974 tentang Perkawinan.
Peraturan Menteri Hukum dan HAM Republik Indonesia No. M.01-HL.03.01 Tahun 2006 tentang Tata Cara Pendaftaran Anak untuk Memperoleh Kewarganegaraan Republik Indonesia.
Burgerlijk Wetboek terjemahan R. Subekti dan Tji-trosudibio, 2001, Pradnya Paramita, cetakan ke 21.
Internet:
www.snb.or.id
www.nuninghallett.multiply.com
www.icrp-online.org
Wawancara:
Bapak Nengak Mahardika, Divisi Pelayanan Hukum dan HAM, Kanwil Hukum dan HAM Propinsi Jawa Timur.
Bapak Sianipar, Kantor Dinas Kependudukan dan Catatan Sipil Kotamadya Surabaya.
Ibu Ida , Kepala Bagian Hak-Hak atas Tanah, Badan Pertanahan Nasional Propinsi Jawa Timur.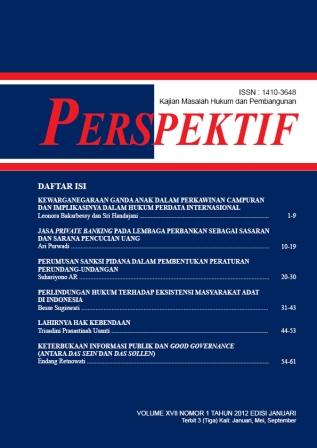 Downloads
License
Authors who publish with this journal agree to the following terms:
Authors retain copyright and grant the journal right of first publication with the work simultaneously licensed under a Attribution-ShareAlike 4.0 International (CC BY-SA 4.0) License that allows others to share the work with an acknowledgement of the work's authorship and initial publication in this journal.
Authors are able to enter into separate, additional contractual arrangements for the non-exclusive distribution of the journal's published version of the work (e.g., post it to an institutional repository or publish it in a book), with an acknowledgement of its initial publication in this journal.
Authors are permitted and encouraged to post their work online (e.g., in institutional repositories or on their website) prior to and during the submission process, as it can lead to productive exchanges, as well as earlier and greater citation of published work (See The Effect of Open Access).
The Authors submitting a manuscript do so on the understanding that if accepted for publication, copyright of the article shall be assigned to jurnal PERSPEKTIF and Research Institutions and Community Service, Wijaya Kusuma Surabaya University as publisher of the journal.