JASA PRIVATE BANKING PADA LEMBAGA PERBANKAN SEBAGAI SASARAN DAN SARANA PENCUCIAN UANG
Keywords:
private banking, bank, pencucian uang, banking private, money laundry
Abstract
Bank dapat mengalami risiko yang digunakan sebagai sarana dan sasaran oleh pelaku kejahatan untuk mencuci uang hasil kejahatannya. Teknik pencucian uang yang seringkali dilakukan melalui industri perbankan. Hal ini disebabkan bank banyak menawarkan jasa dalam lalu-lintas keuangan yang dapat menyembunyikan atau menyamarkan asal-usul dana. Salah satunya adalah jasa private banking yang ditawarkan oleh bank memberikan keuntungan bagi pelaku kejahatan untuk menyembunyikan hasil kejahatan mereka. Peranan private banker sebagai penasehat bagi para nasabahnya menjadi sangat loyal kepada para nasabah mereka, baik karena alasan profesional maupun karena alasan pribadi. Hal ini mengakibatkan mereka menjadi tidak atau kurang tanggap terhadap tanda-tanda ketidakberesan dari kegiatan para nasabahnya. Budaya kerahasiaan sudah merambah dan merasuk ke dalam industri private banking. Adanya kerahasiaan bank yang cukup ketat, maka berpotensi menjadi sarana dan sasaran pencucian uang.
Bank can experience the risk used by criminal as purposes to do money laundry for their crime. The technique of money laundry is often used by bank industry. It is occurred because bank offer lots of services in flowing the money which can conceal the history of fund. One of them is private service of bank offered by bank in which it gives advantages for criminal to hide their crime. The role of private banker as advisors must be loyal to their customers, either for professionally or personally. It gives impact to customers that they do not response towards the criminality of the customers' activities. The culture of secret ness has spread and inserted to banking private industry. With the tight bank secret ness, it provides potential for money laundry purposes.
References
Buku:
Fuady, Munir, 2004, Hukum Perbankan Modern (Buku Kedua), Bandung: Citra Aditya Bakti.
Husein, Yunus, 2007, Bunga Anti Pencucian Uang, Bandung: Books Terrace & Library.
Irman S. Tb., 2006, Hukum Pembuktian Pencucian Uang, Bandung: Mos Pub. & AYYCCS Group.
Siahaan, NHT, 2005, Pencucian Uang dan Kejahatan Perbankan, Jakarta: Pustaka Sinar Harapan.
Sutedi, Adrian, 2007, Hukum Perbankan (Suatu Tinjauan Pencucian Uang, Merger, Likuidasi, dan Kepailitan), Jakarta: Sinar Grafika.
Sjahdeni, S. Remy, 2004, Seluk-Beluk Tindak Pidana Pencucian Uang dan Pembiayaan Terorisme, Jakarta: Grafiti.
Peraturan Perundang-undangan:
Undang-Undang No. 15 Tahun 2002 tentang Tindak Pidana Pencucian Uang (LNRI Tahun 2002 No. 30; Tambahan Lembaran Negara Republik Indonesia No. 4191).
Undang-Undang No. 25 Tahun 2003 tentang Pe-rubahan atas Undang-Undang No. 15 Tahun 2002 tentang Tindak Pidana Pencucian Uang (LNRI Tahun 2003 No. 108; Tambahan Lembaran Negara Republik Indonesia No. 4324).
Undang-Undang No. 8 Tahun 2010 tentang Pen-cegahan dan Pemberantasan Tindak Pidana Pencucian Uang (LNRI Tahun 2010 No. 122; Tambahan Lembaran Negara Republik Indonesia No. 5164).
Jurnal/Website:
Zulkarnain Sitompul, "Tindak Pidana Perbankan Dan Pencucian Uang (Money Laundering)", Reformasi Hukum Vol. VII No. 2 Juli-Desember 2004.
http://www.bis.org/bcbs diakses tanggal 25 Juni 2012.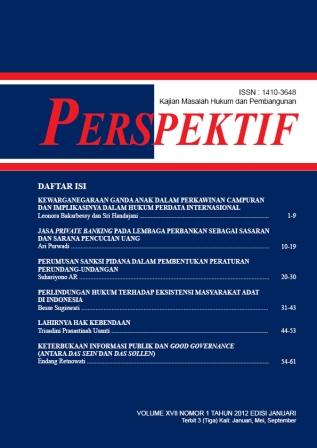 Downloads
License
Authors who publish with this journal agree to the following terms:
Authors retain copyright and grant the journal right of first publication with the work simultaneously licensed under a Attribution-ShareAlike 4.0 International (CC BY-SA 4.0) License that allows others to share the work with an acknowledgement of the work's authorship and initial publication in this journal.
Authors are able to enter into separate, additional contractual arrangements for the non-exclusive distribution of the journal's published version of the work (e.g., post it to an institutional repository or publish it in a book), with an acknowledgement of its initial publication in this journal.
Authors are permitted and encouraged to post their work online (e.g., in institutional repositories or on their website) prior to and during the submission process, as it can lead to productive exchanges, as well as earlier and greater citation of published work (See The Effect of Open Access).
The Authors submitting a manuscript do so on the understanding that if accepted for publication, copyright of the article shall be assigned to jurnal PERSPEKTIF and Research Institutions and Community Service, Wijaya Kusuma Surabaya University as publisher of the journal.