PERUMUSAN SANKSI PIDANA DALAM PEMBENTUKAN PERATURAN PERUNDANG-UNDANGAN
Keywords:
kebijakan penentuan pidana, penghitungan bobot, pemidanaan yang ideal, determination of criminal policy, counting of heavy, ideal criminal
Abstract
Perumusan sanksi pidana terkait dengan adanya larangan atau perintah dari suatu norma yang sebelumnya ada, atau disepakati oleh pembentuk undang-undang. Kesepakatan tersebut dapat diartikan sebagai suatu kebijakan kriminalisasi atau dekriminalisasi suatu perbuatan yang disebut dengan kebijakan penentuan pidana (criminal policy). Dalam hal menentukan unsur-unsur tindak pidana dalam suatu perbuatan tidaklah sulit dibandingkan bagaimana menentukan bobot dan besaran sanksi pidana itu sendiri. Akhir-akhir ini, para pembentuk undang-undang sering dipengaruhi secara emosional untuk selalu membalas perbuatan yang dilarang atau yang diperintahkan dengan pidana penjara atau denda yang berat sehingga orang mengatakan bahwa pembentuk undang-undang masih berpegangan pada teori pembalasan (retributive view). Padahal, di negara lain, terutama di negara-negara maju, telah menerapkan keadilan restoratif (restorative justice) untuk tindak-tindak pidana ringan, korbannya telah memaafkan, pelakunya telah uzur, anak-anak atau perempuan hamil. Pemidanaan merupakan tindakan represif (penanganan atau penanggulangan). Selain mempunyai makna represif, pemidanaan mempunyai makna preventif dalam arti luas. Di satu pihak pemidanaan itu dimaksudkan untuk memperbaiki sikap atau tingkah laku terpidana sehingga kelak tidak akan mengulangi lagi perbuatannya, dan di lain pihak pemidanaan itu juga dimaksudkan untuk mencegah orang lain dari kemungkinan melakukan perbuatan yang serupa (pencegahan umum).
The formulation of criminal sanctions dealing with prohibition or order from the first norm or has agreement from the former of legislation. The agreement is a kind of criminal policy. In determining of criminal aspects in action is not difficult compared with how to determine the heavy criminal sanction. Recently, the formers of legislation are often influenced by their emotional to revenge prohibited action or ordered action with jail or the heavy fine, thats why people say that the formers of legislation still hold on retributive view. Whereas, in other countries especially in din developing countries have implemented restorative justice, for the light crimes, the victim has forgiven, the criminals are old, children or pregnant women. The criminal is a kind of implementation of criminal law in general people say as repressive action. Besides, having meaning for repressive action, criminal has also wide meaning for preventive action. In one hand, the criminal is used for improving behavior so that they do not do crime anymore. 
References
Arief, Barda Nawawi, 2002, Bunga Rampai, Kebijakan Hukum Pidana, Bandung: Citra Aditya Bakti.
______, 2008, Bunga Rampai, Kebijakan Hukum Pidana, Perkembangan Penyusunan Konsep KUHP Baru, Jakarta: Kencana Prenada Media Grup.
Duff, Antony and David Garland, 1994, A Reader on Punishment, New York: Oxford University Press.
Kaplan, John, 1973, Criminal Justice,New York: The Foundation Press Inc. Mineola.
Kartanegara, Satochid, Kumpulan Kuliah Bagian Satu, Balai Lektur Mahasiswa.
Lamintang, P.A.F., 1983, Dasar-dasar Hukum Pidana Indonesia, Bandung: Sinar Baru.
______, 1985, Hukum Penitensier Indonesia, Edisi Pertama, Bandung: Armico.
Muladi, 1992, Lembaga Pidana Bersyarat, Bandung: Alumni.
Packer, Herbert L., 1968, The Limits of The Criminal Sanction, California: Stanford University Press.
Remmelink, Jan, 2003, Hukum Pidana - Komentar atas Pasal-pasal Terpenting dari KUHP Belanda dan Pidananya dalam KUHP Indonesia, Jakarta: Gramedia Pustaka Utama.
Roeslan, S., 1983, Hukum Pidana sebagai Konfrontasi Manusia - Manusia, Jakarta: Ghalia Indonesia.
Sudarto, 1983, Hukum dan Hukum Pidana, Bandung: Alumni.
Suringa, D. Hazewinkel, 1975, Inleiding tot De Studie van Het Nederlandse Strafrecht, Groningen: H.D. Tjeenk Willink B.V.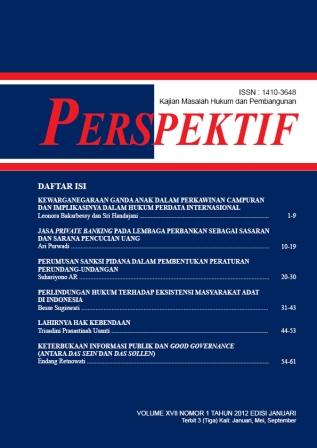 Downloads
License
Authors who publish with this journal agree to the following terms:
Authors retain copyright and grant the journal right of first publication with the work simultaneously licensed under a Attribution-ShareAlike 4.0 International (CC BY-SA 4.0) License that allows others to share the work with an acknowledgement of the work's authorship and initial publication in this journal.
Authors are able to enter into separate, additional contractual arrangements for the non-exclusive distribution of the journal's published version of the work (e.g., post it to an institutional repository or publish it in a book), with an acknowledgement of its initial publication in this journal.
Authors are permitted and encouraged to post their work online (e.g., in institutional repositories or on their website) prior to and during the submission process, as it can lead to productive exchanges, as well as earlier and greater citation of published work (See The Effect of Open Access).
The Authors submitting a manuscript do so on the understanding that if accepted for publication, copyright of the article shall be assigned to jurnal PERSPEKTIF and Research Institutions and Community Service, Wijaya Kusuma Surabaya University as publisher of the journal.