PERLINDUNGAN HUKUM TERHADAP EKSISTENSI MASYARAKAT ADAT DI INDONESIA
Keywords:
keberadaan masyarakat adat, konflik, pengakuan hak, existence of tribute people, conflict, right acknowledgement
Abstract
Keberadaan masyarakat adat dalam Undang-Undang Dasar 1495 hasil amandemen mendapat pengakuan dan penghormatan, termaktub dalam Pasal 18B ayat 2. Pasal ini memberikan posisi konstitusional kepada masyarakat adat dalam hubungannya dengan negara, bagaimana komunitas diberlakukan. Kehadiran masyarakat adat merupakan suatu kenyataan sejarah yang tidak dapat dihindari atau disangkal oleh pemerintah. Pemerintah Daerah diberi kewenangan regulasi untuk penentuan keberadaan suatu masyarakat hukum adat yang masih hidup di tingkat kabupaten dan kota tanpa rambu-rambu yang jelas. Hal ini dapat menimbulkan konflik, baik antar daerah maupun antar pemerintah daerah dengan masyarakat hukum tertentu. Sejak era reformasi, masyarakat hukum adat seluruh Indonesia banyak melakukan penuntutan-penuntutan kembali hak mereka yang dirampas secara paksa atau dengan cara lain, baik oleh pemerintah maupun kelompok orang tertentu.
The existence of tribute people on the Constitution of 1945, the result of amendment has acknowledged and appreciated in chapter 18 B verses 2. This chapter gives position of constitution to tribute people dealing with state, how they are performed. The coming of tribute people is a fact that history can be avoided by government. The regional government is given the authorization to make rules clearly. It can raise conflict either for between regional or regional government with certain law society. Since reformation, law of civil society inIndonesiademands much their rights which are stolen by government or other certain groups. 
References
Wignjodipuro, Soerojo, 1979, Pengantar dan Asas-Asas Hukum Adat, Bandung: Alumni.
Sirait, Martua, dkk., Bagaimana Hak-Hak Masyarakat Hukum Adat dalam Mengelola Sumber Daya Alam Diatur, Southeast Asia Policy Research Working Paper, No. 24, hal. 5.
Saleng, Abrar, 2004, Hukum Pertambangan, Yogyakarta: UII Press Andico Multiplay.
Sumardjani, Lisman, 2007, Konflik Sosial Kehutanan, Bogor.
Siradjudin, Azmi A. R., 2010, Pengakuan Masyarakat Adat dalam Instrumen Hukum Nasional, Sulawesi Tengah: Yayasan Merah Putih.
Asshiddiqie, Jimly, Hak Konstitusional Masyarakat Hukum Adat, Makalah disampaikan dalam Lokakarya Nasional, Jakarta 10 Desember 2007.
Tua, Perpatih Nan, 2006, Pola Hubungan Struktural antara Masyarakat Hukum Adat dengan Pemerintah Daerah, Perspektif dapat ditemukan dalam: Frans Magnis Suseno, dkk., Hubungan Stuktural Masyarakat Hukum Adat, Suku Bangsa, Bangsa, dan Negara ditinjau dari Perspektif Hak Asasi Manusia, Jakarta: Komnas HAM.
Mary, S. Rahma H. dan Noer Fauzi Rachman, 2011, Mesuji: Cermin Konflik Agraria yang Kronis, Bogor: Konsorsium Pembaruan Agraria.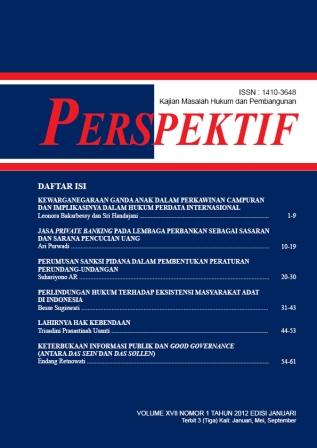 Downloads
License
Authors who publish with this journal agree to the following terms:
Authors retain copyright and grant the journal right of first publication with the work simultaneously licensed under a Attribution-ShareAlike 4.0 International (CC BY-SA 4.0) License that allows others to share the work with an acknowledgement of the work's authorship and initial publication in this journal.
Authors are able to enter into separate, additional contractual arrangements for the non-exclusive distribution of the journal's published version of the work (e.g., post it to an institutional repository or publish it in a book), with an acknowledgement of its initial publication in this journal.
Authors are permitted and encouraged to post their work online (e.g., in institutional repositories or on their website) prior to and during the submission process, as it can lead to productive exchanges, as well as earlier and greater citation of published work (See The Effect of Open Access).
The Authors submitting a manuscript do so on the understanding that if accepted for publication, copyright of the article shall be assigned to jurnal PERSPEKTIF and Research Institutions and Community Service, Wijaya Kusuma Surabaya University as publisher of the journal.