KETERBUKAAN INFORMASI PUBLIK DAN GOOD GOVERNANCE (ANTARA DAS SEIN DAN DAS SOLLEN)
Keywords:
keterbukaan informasi publik, tata pemerintahan yang baik, public information, good governance
Abstract
Keberadaan Undang-Undang No. 14 Tahun 2008 tentang Keterbukaan Informasi Publik memberikan pencerahan dalam pelaksanaan penyelenggaraan Negara atau pemerintahan. Pelaksanaan keterbukaan informasi publik dalam penyelenggaraan negara atau pemerintahan merupakan perwujudan tata pemerintahan yang baik (Good Governance), dan jaminan kepastian hukum terhadap hak masyarakat untuk mendapatkan informasi yang dibutuhkan serta untuk turut serta dalam mengontrol penyelenggaraan negara atau pemerintahan. Pemerintah harus menyiapkan sarana prasarana, sumber daya manusia yang punya kemampuan (skill) dan kemauan serta komitmen dari seluruh penyelenggara pemerintahan atau badan publik dan aparat atau komponennya, untuk melaksanakannya. Agar apa yang diharapkan dapat diwujudkan dengan baik. Untuk mendukung pelaksanaan undang-undang tersebut diperlukan adanya penegakan hukum yang berkeadilan serta dukungan penegak hukum yang profesional dan yang menjunjung tinggi keadilan.
The Law No 14 Year 2008 about The Openness of Public Information provides enlightenment in the implementation of state or government. Implementation of public information in running the state is the embodiment of good governance. It is the guarantee of law towards human rights to get information needed in participating and controlling the implementation of State or Government. The Government should set up infrastructure, human resources who have skills and willingness as well as commitment of all the administrators or Public Agency and the apparatus to do it and what is expected able to realize it well. To support the implementation of the law, it is required law enforcement fairly and supported by law enforcement professional with the appreciation of justice.
References
Buku:
Abdilah, Masykuri, 1999, Demokrasi di Persimpangan Makna, Respons Intelektual Muslim Indonesia 1966-1993, Yogyakarta: Tiara Wacana.
Gadjong, Agussalim A., 2007, Pemerintahan Daerah, Bogor: Ghalia Indonesia.
Mahfud, Mohammad M.D., 2000, Demokrasi dan Konstitusi di Indonesia: Studi tentang Interaksi Politik dan Kehidupan Ketatanegaraan, Jakarta: Rineka Cipta.
Marzuki, Peter Mahmud, 2008, Penelitian Hukum, Jakarta: Kencana Predana Media Group.
Ridwan HR, 2010, Hukum Administrasi Negara, Jakarta: Raja Grafindo Persada.
Riyanto, Astim 2006, Negara Kesatuan, Konsep, Asas dan Aktualisasinya, Bandung: Yapemdo.
Schwarzmantel, J., 1994, The State in Contemporary Society: An Introductions, London: Harvester Wheatssheaf.
Soekanto, Soerjono, 1986, Pengantar Penelitian Hukum, Jakarta: Universitas Indonesia Press.
Soemitro, Ronny, 1994, Metodologi Penelitian Hukum dan Jurimetri, Jakarta: Ghalia Indonesia.
Tjandra, Riawan, 2008, Hukum Administrasi Negara, Yogyakarta: Universitas Atma Jaya Yogyakarta.
Peraturan Perundangan:
Undang-Undang Dasar Negara Republik Indonesia Tahun 1945.
Undang-Undang Republik Indonesia No. 32 Tahun 2004 tentang Pemerintahan Daerah.
Undang-Undang Republik Indonesia No. 14 Tahun 2008 tentang Keterbukaan Informasi Publik.
Jurnal atau Internet:
Bahan Sosialisasi UU Keterbukaan Informasi Publik – lingkup BSN, http://www.depkomindo.go.id, diunduh 20 Oktober 2011.
Muhammad H.S., Liputan Investigasi Publik, 31 Oktober 2011.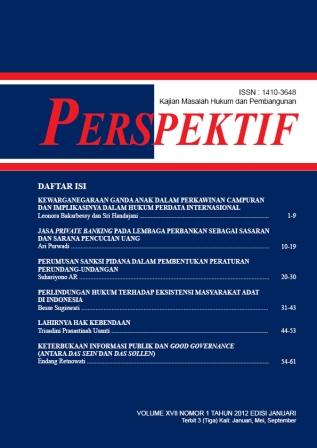 Downloads
License
Authors who publish with this journal agree to the following terms:
Authors retain copyright and grant the journal right of first publication with the work simultaneously licensed under a Attribution-ShareAlike 4.0 International (CC BY-SA 4.0) License that allows others to share the work with an acknowledgement of the work's authorship and initial publication in this journal.
Authors are able to enter into separate, additional contractual arrangements for the non-exclusive distribution of the journal's published version of the work (e.g., post it to an institutional repository or publish it in a book), with an acknowledgement of its initial publication in this journal.
Authors are permitted and encouraged to post their work online (e.g., in institutional repositories or on their website) prior to and during the submission process, as it can lead to productive exchanges, as well as earlier and greater citation of published work (See The Effect of Open Access).
The Authors submitting a manuscript do so on the understanding that if accepted for publication, copyright of the article shall be assigned to jurnal PERSPEKTIF and Research Institutions and Community Service, Wijaya Kusuma Surabaya University as publisher of the journal.