PENERBITAN SERTIPIKAT HAK ATAS TANAH DAN IMPLIKASI HUKUMNYA
Keywords:
sertipikat, kepastian hukum, perlindungan hukum, land rights certificate, legal certainty, legal protection
Abstract
Kegiatan pendaftaran tanah untuk pertama kali baik melalui pendaftaran tanah secara sistematik dan pendaftaran tanah secara sporadik menghasilkan sertipikat sebagai tanda bukti haknya. Salah satu sertipikat yang diterbitkan oleh Kantor Pertanahan adalah sertipikat hak atas tanah. Dengan diterbitkan sertipikat hak atas tanah akan terwujud jaminan kepastian hukum dan perlindungan hukum bagi pemilik sertipikat. Namun implikasi tersebut juga diikuti implikasi lain berupa pembatalan apabila terjadi cacat yuridis dalam pembuatannya, dan gugatan apabila terjadi kerugian akibat adanya cacat prosedur dan perbuatan melanggar hukum.
A certificate will be generated for land that registered for the first time through sporadic or systemic registration, this certificate will be issued for the proof of ownership purpose. One kind of certificates which is issued by the land office is Land Rights Certificate. The effects of this kind of certificate to the owner are giving a legal certainty and a legal protection. However this implication is followed by other implications such as cancellation and claim. Cancellation happen if there was a juridical flaw by the time the certificate is being made, while claim will be happened if there was a loss as the effect of procedural flaw and unlawful act.
References
Buku:
Hajati, Sri, "Restrukturisasi Hak atas Tanah dalam rangka Pembaruan Hukum Agraria Nasional", Pidato Pengukuhan Guru Besar, Universitas Airlangga Surabaya, 5 Maret 2005.
Harsono, Boedi, 2003, Hukum Agraria Indonesia Sejarah Pembentukan Undang-Undang Pokok Agraria, Isi, dan Pelaksanaannya, Jakarta: Djambatan.
Hutagalung, Arie S., 2005, Tebaran Pemikiran Seputar Masalah Hukum Tanah, Jakarta: Lembaga Pemberdayaan Hukum Indonesia.
Lubis, Mhd. Yamin dan Abd. Rahim Lubis, 2008, Hukum Pendaftaran Tanah, Bandung: Mandar Maju.
Parlindungan, A.P., 1999, Pendaftaran Tanah di Indonesia, Bandung: Mandar Maju.
Perangin, Effendi, 1989, Hukum Agraria di Indonesia: Suatu Telaah dari Sudut Pandang Praktisi Hukum, Jakarta: Rajawali.
Santoso, Urip, 2010, Hukum Agraria dan Hak-hak atas Tanah, Jakarta: Kencana Prenada Media.
______, 2011, Pendaftaran dan Peralihan Hak atas Tanah, Jakarta: Kencana Prenada Media.
Sumardjono, Maria S.W., 2005, Kebijakan Pertanahan antara Regulasi dan Implementasi, Jakarta: Penerbit Buku Kompas.
Peraturan Perundang-undangan:
Undang-Undang No. 5 Tahun 1960 tentang Peraturan Dasar Pokok-Pokok Agraria.
Peraturan Pemerintah No. 24 Tahun 1997 tentang Pendaftaran Tanah.
Peraturan Menteri Negara Agraria/Kepala Badan Pertanahan Nasional No. 3 Tahun 1997 tentang Ketentuan Pelaksanaan Peraturan Pemerintah No. 24 Tahun 1997 tentang Pendaftaran Tanah.
Peraturan Menteri Negara Agraria/Kepala Badan Pertanahan Nasional No. 9 Tahun 1999 tentang Tata Cara Pemberian dan Pembatalan Pemberian Hak atas Tanah Negara dan Hak Pengelolaan.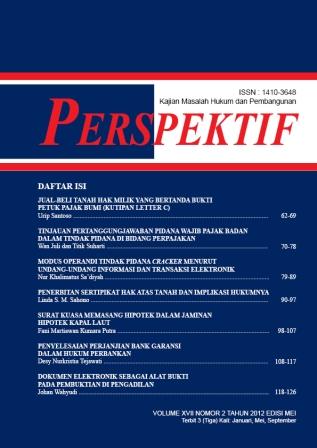 Downloads
License
Authors who publish with this journal agree to the following terms:
Authors retain copyright and grant the journal right of first publication with the work simultaneously licensed under a Attribution-ShareAlike 4.0 International (CC BY-SA 4.0) License that allows others to share the work with an acknowledgement of the work's authorship and initial publication in this journal.
Authors are able to enter into separate, additional contractual arrangements for the non-exclusive distribution of the journal's published version of the work (e.g., post it to an institutional repository or publish it in a book), with an acknowledgement of its initial publication in this journal.
Authors are permitted and encouraged to post their work online (e.g., in institutional repositories or on their website) prior to and during the submission process, as it can lead to productive exchanges, as well as earlier and greater citation of published work (See The Effect of Open Access).
The Authors submitting a manuscript do so on the understanding that if accepted for publication, copyright of the article shall be assigned to jurnal PERSPEKTIF and Research Institutions and Community Service, Wijaya Kusuma Surabaya University as publisher of the journal.