SURAT KUASA MEMASANG HIPOTEK DALAM JAMINAN HIPOTEK KAPAL LAUT
Keywords:
Surat Kuasa Memasang Hipotek, hipotek, kapal laut, Mortgage's Deed, Mortgage, ship mortgage, hypotheek
Abstract
Pembebanan hipotek atas kapal laut dilakukan dengan menggunakan akta otentik, pembuatan akta otentik jaminan hipotek adalah kewenangan dari Pejabat Pendaftar dan Pencatat Balik Nama Kapal sebagaimana telah ditunjuk oleh undang-undang. Faktual, pembebanan hipotek selalu dilakukan dengan pembuatan Surat Kuasa Memasang Hipotek yang berisi janji-janji terlebih dahulu. Walaupun tidak diwajibkan, Surat Kuasa Memasang Hipotek dirasa oleh masyarakat dapat lebih menjembatani dan melindungi kepentingan para pihak. Hipotek merupakan jaminan kebendaan, maka harus memenuhi asas publisitas, yaitu dengan mendaftarkan jaminan hipotek tersebut dalam register umum yang sifatnya terbuka. Pemenuhan asas publisitas ini akan membawa implikasi kepada pihak ketiga di luar perjanjian jaminan hipotek tersebut.
The imposition of a ship mortgage should be done by using an authentic deed, the making of motrtgage's deed is the authority of Pejabat Pendaftar dan Pencatat Balik Nama Kapal as it is designated by the law. Factually before the parties go to the Pejabat Pendaftar dan Pencatat Balik Nama Kapal for the imposition of a ship mortgage they will go to the notary to make such an attonery, which called Surat Kuasa Memasang Hipotek that contains some promises and agreements made and agreed by the parties. Eventhough this Surat Kuasa Memasang Hipotek is not a must but the substance of this deed could even more in giving protection and could accommodate the willingness of the parties, and also give more protection to the parties. Ship mortgage is a property rights guarantee, thats why it must fulfil the publicity principle which is done by registering the mortgage into the general register.
References
Buku:
Adjie, Habib, 2008, Hukum Notaris Indonesia: Tafsir Tematik terhadap Undang-Undang No. 30 Tahun 2004 tentang Jabatan Notaris, Bandung: Refika Aditama.
Agoes, Etty R., 1991, Konvensi Hukum Laut 1982 dan Masalah Pengaturan Hak Lintas Kapal Asing, Bandung: Abardin.
Fuady, Munir, 2003, Jaminan Fiducia, Cetakan Kedua Revisi, Bandung: Citra Aditya Bakti.
Isnaeni, Moch., 1996, Hipotek Pesawat Udara di Indonesia, Surabaya: Dharma Muda.
Kraan, C.A., 1984, De Authentieke Akte, Arnhem: Gouda Quint BV.
Patrianto, Jusuf T., 2009, Kedudukan Akta Otentik dalam Sistem Hukum Pembuktian.
Satrio J., 1996, Hukum Jaminan Hak-Hak Kebendaan, Bandung: Citra Aditya Bakti.
________, 2007, Hukum Jaminan, Hak Jaminan Kebendaan, Bandung: Citra Aditya Bakti.
Soegeng, Wartini, 1988, Pendaftaran Kapal Laut di Indonesia, Bandung: Eresco.
Sofwan, Sri Soedewi, 1980, Hukum Jaminan di Indonesia: Pokok-Pokok Hukum Jaminan dan Jaminan Perorangan, Yogyakarta: Liberty Offset.
Usman, Rachmadi, 2008, Hukum Jaminan Keperdataan, Jakarta: Sinar Grafika.
Kitab Undang-Undang Hukum Dagang (KUHD).
Burgerlijk Wetboek (BW).
Peraturan Perundang-undangan:
Undang-Undang No. 21 Tahun 1992 tentang Perkapalan.
Undang-Undang No. 30 Tahun 2004 tentang Jabatan Notaris.
Undang-Undang No. 4 Tahun 1999 tentang Hak Tanggungan.
Undang-Undang No. 17 Tahun 2008 tentang Pelayaran.
Internet:
Supriyono, Hadi, Jenis-Jenis Kapal Niaga, http://crewagent.plusadvisor.com/ilmu-pelayaran/330-jenis-jenis-kapal-niaga-di-indonesia (diakses tgl. 11/01/2012).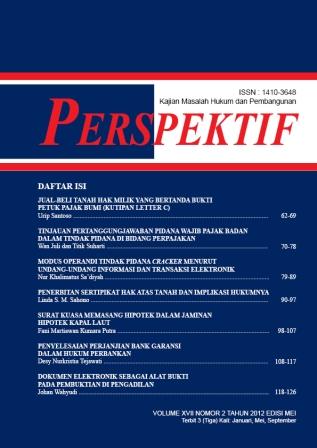 Downloads
License
Authors who publish with this journal agree to the following terms:
Authors retain copyright and grant the journal right of first publication with the work simultaneously licensed under a Attribution-ShareAlike 4.0 International (CC BY-SA 4.0) License that allows others to share the work with an acknowledgement of the work's authorship and initial publication in this journal.
Authors are able to enter into separate, additional contractual arrangements for the non-exclusive distribution of the journal's published version of the work (e.g., post it to an institutional repository or publish it in a book), with an acknowledgement of its initial publication in this journal.
Authors are permitted and encouraged to post their work online (e.g., in institutional repositories or on their website) prior to and during the submission process, as it can lead to productive exchanges, as well as earlier and greater citation of published work (See The Effect of Open Access).
The Authors submitting a manuscript do so on the understanding that if accepted for publication, copyright of the article shall be assigned to jurnal PERSPEKTIF and Research Institutions and Community Service, Wijaya Kusuma Surabaya University as publisher of the journal.